Pearl Shapes
Pearls are separated into four categories in the shape-sorting process: Round/Semi-Round, Drop, Baroque, and Circle Baroque

Round
Round pearls are the most valuable and often most desirable of all pearl shapes. Semi-round pearls are virtually round, and will appear round when strung together as a necklace or bracelet.

Drop
Drop pearls are symmetrically extended pearls that frequently take the form a tear-drop. Drop pearls are not only unique, but extremely valuable when found with the perfect "pear-shape."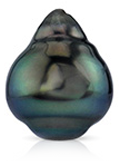 Baroque
Baroque pearls are irregular in shape and at times elongated. Many people love the distinct "character" of baroque-shape pearls. These pearls are frequently found in designer jewelry pieces.

Circle Baroque
Circle-Baroque pearls are easily distinguished by their unique rings surrounding the pearl. Circle-Baroque shapes are most common in Tahitian and South Sea Pearls. These are generally the most affordable of all pearl-shapes.